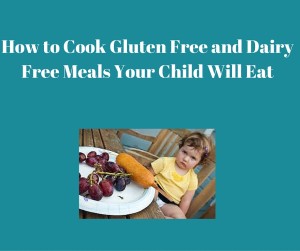 Do you struggle to make healthy meals that your child will actually eat? This is one of the biggest challenges that all moms face and it's even harder when you have to make those meals gluten free and dairy free. Furthermore you want to them to be inexpensive. Here are some tips to actually make gluten free and dairy free meals your child will want to eat and that won't break your bank.
1. Plan ahead. This is a must with any kind of healthy meals but it's even more important with gluten free and dairy free meals and when you are cooking for children. You can watch my video on my post that I did on How to Create a Gluten Free Shopping List for ideas on how to plan ahead and be ready with the right foods in your kitchen for cooking these meals.
2. Shop store sales. This is a must for saving money and even more so on gluten free and dairy free foods since you cannot easily find coupons for these foods. Although there are discounts available and I talk about how to find them with this post. How to Find Discounts on Gluten Free Foods.
3. Buy in bulk. This is another way to save and also have these foods on hand for cooking meals that your child will want to eat.
4. Check Amazon. This is another great way to save that many people don't even think about. I've even bought some of the basics I use to make a lot of delicious gluten free and dairy free meals such as quinoa and millet on amazon and found it to be cheaper there.
5. Use fruits and vegetables in season. All vegetables and fruits have a season of the year when they are more readily available and on sale. For example trying to buy peaches in Winter will cost more and many stores won't even have them available. Learn what fruits and vegetables are in season and therefore on sale when and buy them then. It also helps to be able to can and freeze them while they are in season so you will have some available for cooking when they are off season.
6. Use herbs and spices for adding flavor. This is a very cost effective and effective way of making gluten free and dairy free meals that taste good and that your child will want to eat. You can use things such as sea salt, herbes de provence blend, black pepper and lemon, thyme, basil and other spice blends to make quinoa, brown rice, millet, vegetables, chicken, fish and more taste better and have more flavor.
7. Involve your child in the cooking. Children as young as 4 years old can help with some basics. You can also ask your child to help you chose the foods and meals that he or she wants to eat. Instead of making it an open ended question. Show your child 5-10 gluten free and dairy free foods that you can use to cook a meal and ask him or her which ones he or she prefers. You can also do this with vegetables. For example show your child some broccoli, cabbage and green peas and ask him or her to chose which one he or she wants to eat.
Did this help you? If so, I would greatly appreciate a comment and a share on Facebook, twitter, linkedin, or pinterest.
Chat with me
Serious about wanting to work with me to help create better health and wealth in your life? Apply to join my home business team.