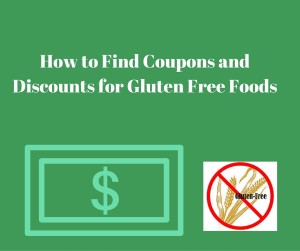 One of the challenges of eating gluten free is that it can cost more. However, it doesn't necessarily have to cost more, it all depends on how you eat gluten free and what you do to find gluten free discounts and to shop gluten free on a budget. I wrote another post on a review of a book on gluten free eating and shopping on a budget. The Gluten Free Savvy Shopper However, one of the biggest challenges when eating gluten free that is not really addressed in this book is that most coupons do not apply for gluten free foods. When was the last time you found a coupon or gluten free discount in the local newspaper? or with the coupons that come in the mail? Chances are good that you never have. However, this does not mean that you can't find gluten free coupons or discounts. Here are 10 places to find gluten free coupons and discounts.
1. Search the websites for the companies who sell your favorite gluten free foods. You will be surprised at how many times there are coupons and discounts ready and waiting for the taking on their websites.
2. Facebook pages- Check out and like the Facebook pages for your favorite gluten free foods. Occasionally they will post coupons and discounts there.
3. Sign up for their email lists. Most if not all companies run specials and discounts at least a few times per year and they will use their email list to notify you.
4. Follow them on twitter- Just like on Facebook many companies who make gluten free foods put up coupons and discounts via twitter.
5. Send them an email and ask- This is the one that many people don't even consider. Yet it works surprisingly well. A lot of companies will send you coupons if you just ask for them. Sometimes you may even get free products too.
6. Look on the boxes for coupons- I've sound several gluten free discounts and coupons by paying attention to what is on the box and or on or near the shelf where the products are stored. For example Enjoy Life cookies have had buy 2 get $1.50 off coupons on them at one of the grocery stores near me for the past few months.
7. Search ebay for coupons- This one may or may not work depending upon what you are looking for. While people cannot legally sell coupons on ebay, they can sell them for a minimal finders fee. It can't hurt to check.
8. Amazon prime- This is a great one. You can find most gluten free foods on amazon and if you have a prime membership, you will get additional discounts.
9. Find click n' save coupons on amazon Many people don't realize these exist but amazon has some good gluten free discounts from time to time.
10. Sign up for autoship for your favorites from Amazon. Are there certain gluten free foods that you eat regularly? Why not save by having them sent to you via autoship.
Did this help you? If so, I would greatly appreciate a comment and a share on Facebook, twitter, linkedin, or pinterest.
Chat with me
Serious about wanting to work with me to help create better health and wealth in your life? Apply to join my home business team.