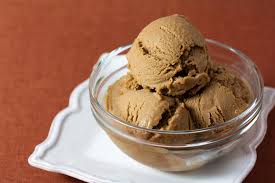 Do you want your child to be able to have ice cream but he or she can't have dairy products and you don't want to spend $6 a pint on the store bought dairy free ice creams? Here are 10 of my favorite dairy free ice creams that will leave your child begging for more. They are so delicious that your child and you will have no idea that they don't have any cows milk in them.
Note: before you begin making dairy free ice cream recipes you will need one of the following:
1.
(This is what I have and use and I love it)
2. Vitamix 5300 Blender, Black
3. Conair Cuisinart ICE-21 1.5 Quart Frozen Yogurt-Ice Cream Maker (White)
4. Yonanas Frozen Healthy Dessert Maker – 100% Fruit Soft-Serve Maker (Black and Silver)
(The least expensive but also the least flexible as you can really use this one only for ice cream and frozen deserts whereas the others can be used to make soups, smoothies and other recipes.)
Tips for all of the dairy free ice cream recipes:
Buy bananas in bulk when they are less expensive and freeze them. This is the basic foundation for all but one of my recipes.
You can use coconut milk or almond milk in all of the recipes although coconut milk is my personal favorite. You can buy it at the store or make your own by using one of the blenders listed above and blending coconuts and water, or almonds and water. I do not recommend you use rice milk or soy milk. Soy milk is not as good for you as it can mess around with your hormones and those of your child and most people who are on gluten free and dairy free diets eat a lot of rice without the need to also drink rice milk. You combine all ingredients in your blender or frozen dessert maker and blend using the ice cream setting. It's very simple.
1. Frozen banana and coconut milk. This is the basic recipe. You simply blend frozen banana with coconut milk and enjoy. If your child doesn't like the plain flavor you can also add in 1-2 drops of vanilla or other flavored stevia. This is my favorite kind. Sweet Leaf Vanilla Creme Flavored Liquid Stevia, 2 oz
2. Frozen banana, strawberries and coconut milk. This is another great favorite and works really well if you have a child that you know loves strawberry ice cream.
3. Frozen banana, and almond milk-again other classic version that you can also add a few drops of vanilla stevia or even vanilla extract to if your child doesn't like the flavor.
4. Frozen banana, coconut milk and raw cocoa powder- This is personally one of my favorites because it tastes just like ice cream.
5. Frozen banana, coconut milk and pineapple- This is a great way to create a pina colada type of ice cream.
6. Frozen banana, coconut milk and peaches- A great refreshing summer recipe for when peaches are in season.
7. Frozen banana, coconut milk and raspberries- another great summer refresher recipe, you can also try mixing strawberries and raspberries.
8. Frozen banana, coconut milk and blackberries- another great one that works well in the summer but sometimes year round if you can find blackberries that aren't too expensive. You can also try combining raspberries and blackberries.
9. Frozen banana, coconut milk and peanut or almond butter- If your child isn't also allergic to nuts then this can be a great recipe to try.
10. Avocado, frozen banana and raw cocoa- This one is a bit different than the others but is a great one that creates more of a pudding type of dairy free ice cream. You want to make sure that the avocado you use is very rice but without being so ripe it is rotten.
Did this help you? If so, I would greatly appreciate a share on Facebook, twitter, linkedin, or pinterest.
Chat with me