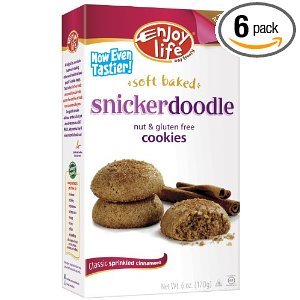 Do you love cookies? Do your kids love cookies? I know I do. More than I should and being gluten free fortunately doesn't mean that you or your kids have to stop eating cookies. While you can make your own gluten free cookies, personally I'm too lazy. I do enjoy cooking sometimes but I'm not really into baking and baking gluten free cookies is even more complicated, so I prefer to buy my gluten free cookies. Here are my 5 favorite gluten free cookies.
1. Pamela's Peanut Butter Cookies- These are cookies are really yummy yet they have really low sugar and therefore are not very sweet so you could even eat them like you would crackers. The peanut butter taste is really great as well.



2. Udi's Maple Pecan Cookies- These are very yummy although they are also the sweetest of the 5 cookies. They also taste the most like a non-gluten free cookie. They also have the most fat and the highest calorie count.


3. Enjoy Life Double Chocolate Cookies- These cookies have a great chocolate flavor and yet they are not only gluten free but also dairy free, nut free and free of all of the top 8 allergens.



4. Enjoy Life Snicker Doodle Cookies- These cookies have a strong cinnamon and vanilla flavor and are just like all enjoy life brands free of not only gluten but also the top 8 allergens.



5. Wow Baking Company Ginger Molasses Cookies-These cookies are more sugary than most other gluten free cookies, they also do have milk products in them are therefore are not dairy free. They also have soy lethcitin which the other cookies on this list do not have. They do taste really good though and have less of that gluten free taste so I've included them on my list. Wow baking company also has lemon cookies, chocolate chip cookies, snickerdoodle, white chocolate and a few other flavors of cookies all of which are gluten free.


Note: The links above are my amazon affiliate links so I will earn a small commission if you purchase them through my links. Personally I've found that you can get the best prices by buying these gluten free cookies in bulk from amazon. However, you can get them as well through stores such as Whole Foods, Sprouts, Smiths, Harmons and probably a few other places.
Did this help you? If so, I would greatly appreciate a share on Facebook, twitter, linkedin, or pinterest.
Chat with me