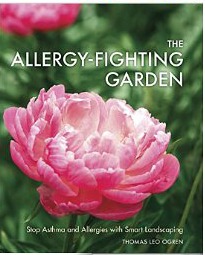 Have you ever considered growing a garden to fight allergies? While I know that eating organic food can help with allergies and therefore the least expensive way to get organic food is to grow it yourself, it never occurred to me that you could actually create an allergy fighting garden with plants, flowers and other things that are not food.
In his book "The Allergy Fighting Garden" Thomas Ogren teaches you exactly how to do just that. Some of the things he talks about include: how to chose allergy fighting plants, the importance of the sex of the plant for fighting allergies, the different types of flowering plants, how to tell the boys from the girls, allergy blocking hedges, eliminating allergy causing spores, how to do proper watering and irrigation, insects and disease and much more.
He also ranks various plants according to those which are least and most allergenic with very thorough details on each plant. Also included are: a glossary of horticulture terms, recommended reading list, useful websites, and a pollen calendar. This book has really got me thinking as I am now quite fascinated with the concept of growing a garden specifically for allergies. For now, I can't do it as I don't have the land on which to grow the garden, but it is certainly something I will consider for the future.
Disclaimer: I did receive a free ebook copy of "The Allergy Fighting Garden" after connecting with Thomas Ogren on Linkedin.
Buy your copy at: The Allergy-Fighting Garden: Stop Asthma and Allergies with Smart Landscaping
P.S. The small print on the ebook version is somewhat hard to read so I do recommend the hard copy of this book.
Did this help you? If so, I would greatly appreciate a share on Facebook, twitter, linkedin, or pinterest.
Chat with me