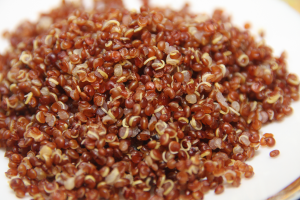 Do you eat quinoa? If not, you really should start eating quinoa on a regular basis. It's really healthy for you and the purpose of this post isn't to convince you why you should eat quinoa, but rather to talk about what I think are the five best ways to eat it.
1. In place of rice. Quinoa can replace rice in just about every dish there is. I've tried replacing quinoa in every dish where I used to use rice and so far I've never had a bad experience.
2. As a cereal. Quinoa cereal with coconut or almond milk, cinnamon, and honey or brown sugar is delicious.
3. As a salad. Quinoa makes a great base for a salad. You can then add in whatever you want, however, some of my favorite things include tuna, avocado, tomato, canned corn and red and green peppers.
4. In place of oats to create a granola. This works really well.
5. In place of pasta in soups. This works especially well with chicken and vegetables or tomato soup.
Did this help you? If so, I would greatly appreciate a share on Facebook, twitter, linkedin, or pinterest.
Chat with me