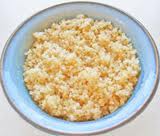 Quinoa is a great replacement for rice, potatoes and other carbs that people usually like to eat. It looks and tastes like a grain but it is actually a high protein bean like substance. Here are ten great recipes you can make with quinoa that taste great and are all gluten free.
1. Quinoa with butter and honey. Just heat it up, add some butter and honey and enjoy.
2. Quinoa with tomatoes, and feta cheese.
3. Quinoa with green peppers, tuna and a little butter or olive oil.
4. Quinoa with turkey and green beans.
5. Quinoa with zucchini, feta cheese and olive oil.
6. Quinoa with chicken and cabbage.
7. Quinoa with yellow squash, and olive oil.
8. Quinoa with butter and brown sugar.
9. Quinoa with chicken, zucchini and lemon juice or a few drops of lemon essential oil.
10. Quinoa with red peppers, tomatoes and black pepper.
What other ways do you enjoy eating quinoa?
Did this help you? If so, I would greatly appreciate a comment and a share on Facebook, twitter, linkedin, or pinterest.
Chat with me
Serious about wanting to work with me to help create better health and wealth in your life? Apply to join my home business team.