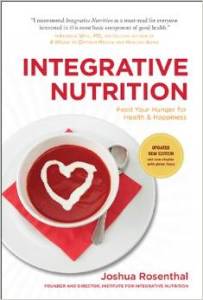 Are you confused by nutrition? Does it seem like there are lots of conflicting options about nutrition and dietary theories? If so, you are not alone. The reality is that nutrition is the only science if you want to call it that, where there are lots of contrasting and conflicting options.
In the book "Integrative Nutirtion: Feed Your Hunger for Health and Happiness" Joshua Rosenthal founder and director of the institute of integrative nutrition explains and clarifies the often confusing world of nutrition. Some of the topics covered in this book include: The Myths of Nutrition, Postmodern nutrition, dietary theories, The global ripple effect of nutrition and how we eat, Deconstructing Cravings, Primary Food and Secondary Foods, Foods to Avoid or Minimize, Cooking Like Your Life Depends on it Because in Fact It May, Reasons to Be Healthy, and a Selection of Healthy and Sugar Free Recipes.
If you are looking for a good, common sense way to finally understand the field of nutrition and get started on your journey to good health by changing the way you eat then this book is for you.
Download your preview of this book at: My IIN Site Click on the banner at the top of the page.
Did this help you? If so, I would greatly appreciate a comment and a share on Facebook, twitter, linkedin, or pinterest.
Chat with me
Serious about wanting to work with me to help create better health and wealth in your life? Apply to join my home business team.