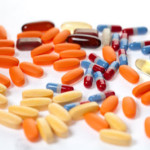 Living chemical free is a good idea and I always strive to live chemical free as much as possible. I only use natural essential oil based cleaners or water with essential oils for cleaning and laundry. I use essential oils for all of my health and medical needs whenever possible and I try to avoid any kind of harsh chemicals in any form. That said, living chemical free doesn't always work.
Why?
Well to begin with we are exposed to chemicals in various forms all day long every day even without being aware of it. From the chemicals that are in our food, to the chemicals that are used to clean the bathrooms at restaurants, to the chemicals that are inside cars, schools, churches and yes even the air we breathe.
Furthermore as much as I try to avoid over the counter medicines which are chemical based, sometimes I have such bad cramps or back pain that I end up taking a few ibuprophen. I would rather not do it but sometimes well I feel like I just have to.
So while I say that I can teach you how to live allergy free and chemical free, the reality is that you will always have to use some chemicals some of the time.
Did this help you? If so, I would greatly appreciate a comment and a share on Facebook, twitter, linkedin, or pinterest.
Chat with me
Serious about wanting to work with me to help create better health and wealth in your life? Apply to join my home business team.