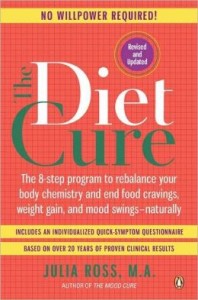 The Diet Cure: The 8-Step Program to Rebalance Your Body Chemistry and End Food Cravings, Weight Gain, and Mood Swings–Naturally
is a really good book. I read a lot of books on health, wellness, nutrition and other related topics and this is honestly one of the best I've read. While there are lots of diet books published, this book is unique in several ways.
1. This book talks about your body chemistry and how to identify the chemical imbalances that are the root cause of your health issues.
2. This book does not focus on one diet but rather on principles and how to identify what you should be eating and how to avoid yo-yo and fad diets.
3. It addresses many of the common problems that many doctors miss such as thyroid issues, food intolerances and reactions, candida and hormonal issues.
4. This book doesn't stop at helping you identify your problems, it also helps you get to the root cause and solve them.
5. There are chapters on how to overcome your allergy problems.
6. There are chapters on shopping, menu planning and other resources to help you implement the diet cure.
7. The last chapter includes putting the master plan in action.
If you are struggling to solve the root cause of your health issues, I highly recommend this book.
Want to explore your options for improving your health with a free health history evaluation? Click here to learn more.
Did this help you? If so, I would greatly appreciate a comment and a share on Facebook, twitter, linkedin, or pinterest.
Chat with me
Serious about wanting to work with me to help create better health and wealth in your life? Apply to join my home business team.