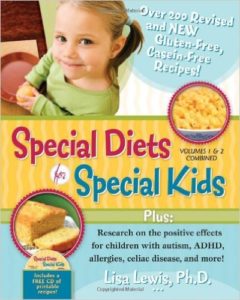 The book "Special Diets for Specail Kids" is a nice big book with over 350 pages. Updated a couple of times, the most recent edition was published in 2011 however, the information is still very relevant.  This book is based on the idea that the Gluten Free Casein Free diet is the best one for children with autism, sensory issues and or ADD/ADHD.  The book starts with a very thorough introduction about why diet changes can help special kids as well as explaining the various ways to get tested for allergies and food sensitivities. The next chapter talks about nutritional support including an overview of the various vitamins and nutrients and the role they play in health. The next chapter is called How and What to Feed Your Child. This chapter talks about how to start the gluten free casein free diet and what exactly to feed your child.  The rest of the book is divided into chapters based on meals and types of food including breakfast, lunch, dinner and snacks. Also included are recipes on how to make dairy free milks, gluten free breads and recipes for holidays including Christmas and Thanksgiving.
The book also includes a CD at the back with the recipes in PDF format on it. While I've read a lot of books on special diets for special  kids I have to say this is one of if not the best one. The recipes are for the most part simple and made with ready to find ingredients. The book is made with pictures and bigger print making it easier to read and follow along. In fact, even some children may be able to follow the recipes if they are old enough and can read.
The biggest disadvantage to the book "Special Diets for Special Kids" is that the focus is exclusively on the Gluten Free Casein Free diet. While this is great for parents who are trying out or using this diet with their kids, there are other diets such as paleo and this book does not take these diets into account at all.
Buy a copy of the book here. Special Diets for Special Kids, Volumes 1 and 2 Combined: Over 200 REVISED and NEW gluten-free casein-free recipes, plus research on the positive … ADHD, allergies, celiac disease, and more!
Did this help you? If so, I would greatly appreciate a share on Facebook, twitter, linkedin, or pinterest.
Chat with me