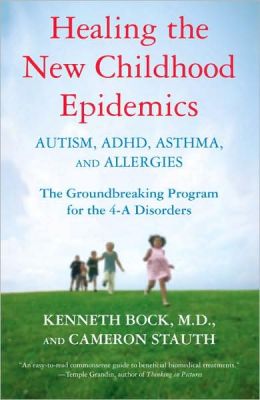 This is one of the best books I've read on all four of the A disorders. Written by a medical doctor, this book shares stories of many of the children he has helped heal from allergies, asthma, autism and ADHD. He also talks about many of the reasons why these disorders have skyrocketed in recent years and offers advice about how to help your child or adults to heal as well as how to prevent them from occurring in the first place.
The end of the book includes lists of resources as well as several useful appendixes. One of these which is particularly useful is a recommended adjusted vaccine schedule that offers advice on how to safely vaccinate your children. I've read other books that had similar advice but this one is the most detailed and the most common sense approach I've read. The main ideas are that you want to avoid giving your child more than one vaccine at the same time, double check to make sure that their is no thermasol in the vaccine, never vaccinate a child who is sick or who has been sick within a week prior to the shots, and give your child some recommended supplements and vitamins before and after. He also does not recommend the Hepatitus vaccine for babies unless the mother has it. Instead you wait until the child is 3-4 or getting ready to start preschool.
Throughout the book are recommended diets, recipes and tips for sticking with the diet, suggestions for natural remedies and other tips to help you heal your child without the side effects of drugs.
Need more detailed help? Check out my Healthy Eating for Children with Autism Online Course
Did this help you? If so, I would greatly appreciate a share on Facebook, twitter, linkedin, or pinterest.
Chat with me