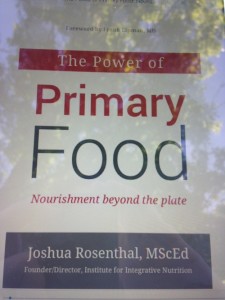 Have you heard about primary food? The reality is that many people have not. However, it is in some cases more important than secondary food. Primary food is defined as everything that fuels you in life that isn't food. Whereas secondary food is the actual food on your plate. Examples of primary food include:
Relationships
Education
Career
Home Environment
Joy
Physical Exercise
Spirituality
Self-Care
Finances
and anything else that has an impact on your life and your overall health.
In his book in Primary Food, Joshua Rosenthal talks about various ways that you can improve your life by improving the various areas of primary food mentioned above. He also shares ideas on how you can heal with primary food and asks questions that you can answer to help you understand what may be lacking in various areas of your life and how you can work to lessen those gaps.
The Power of Primary Food: Nourishment Beyond The Plate