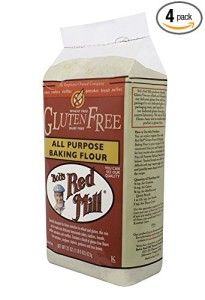 Bob's Red Mill Flours are by far my favorite gluten free flours and in this review post I'm going to tell you why. Have you ever tried to make your own gluten free flour mixes? If so, you probably are aware that it's actually much harder than most people think. Personally I've decided not to even bother with making my own gluten free flours and while I've tried several brands Bob's Red Mill Flours are my favorite. I've found that there consistency and taste is really great and another think I like is that most of their flours are very versatile and can be used for multiple recipes. For example you can make bread with the pancake mix, or muffins with the bread mix whereas with many other brands of gluten free flours you have to use them for one or two specific kinds of recipes otherwise it won't work. The pricing of these flours is also really good. Yes, they do still cost a bit more than wheat based flours but the cost is really only marginally more whereas some brands are a lot more expensive.
Here are a few of my favorites:
Note: These are amazon affiliate links so I will earn a small commission if you buy through my links. That said, I've price shopped quite a bit and amazon really does have the best prices on these gluten free flours.
Did this help you? If so, I would greatly appreciate a comment and a share on Facebook, twitter, linkedin, or pinterest.
Chat with me
Serious about wanting to work with me to help create better health and wealth in your life? Apply to join my home business team.