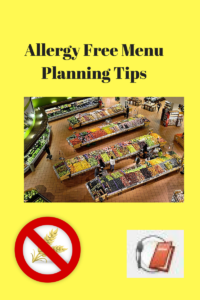 Do you struggle with menu planning because you or maybe even yourself and other members of your household have food allergies or food intolerances and so you have to avoid certain foods when planning menus? Allergy free menu planning can be challenging and trust me, I know. I originally had to avoid 60 foods for 4-6 months and then I had another 20 that I could only eat ever 4 days. In addition I also couldn't have soy, or sugar and had to eat 3 servings of vegetables for every 1 serving of fruit. I also couldn't have any gluten or milk products. It was very challenging and annoying to say the least. So all I can say is if I can do it so can you. In fact, I still can't have gluten or milk products. I still have to be careful with sugar or too much fruit. I still have 5 other foods I can't have and I have to rotate my original list of 60 foods and only eat them every 4 days so the challenge isn't over for me. Through this process though I have learned a lot about allergy free menu planning.
Here are some of my best tips:
1. Keep is simple. Trying to create complicated menus or trying to cook foods with lots of ingredients just makes it harder.
2. Plan your full menu at least a week in advance. This makes rotating foods a lot easier.
3. Use a mobile app to keep track of what you have eaten and when. Fooducate and Diet Tracker are two of my favorites.
4. Be willing to explore and to eat new foods or foods you think you don't like. For example, I hadn't eaten brussel sprouts in over 10 years and I finally tried them again and actually liked them.
5. Get some tupperware containers to store leftovers of foods that you have to rotate in. This makes it much easier for you to avoid wasting food because it goes rotten before you can eat it.
6. Use the website Allrecipes.com to create recipes for your allergy free menu using your list of ingredients.
7. Network in groups on Facebook, linkedin and Google Plus to find recipes and ideas created by people with similar allergies and diet restrictions.
8. Use pinterest. Seriously though pinterest saved my life and I'm not kidding. I found so many great recipes there that I could eat, I couldn't believe it.
What other Allergy free menu planning ideas do you have to share? Share them in the comments below.
Did this help you? If so, I would greatly appreciate a comment and a share on Facebook, twitter, linkedin, or pinterest.
Chat with me
Serious about wanting to work with me to help create better health and wealth in your life? Apply to join my home business team.