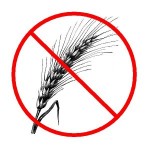 Actually implementing a fully gluten free lifestyle is harder than you might think. In order to help you go gluten free successfully, here are 10 of the worst gluten free mistakes I've seen people make.
1. Going gluten free without a diagnosis or a medical reason for doing so. While I believe that anyone who has a gluten sensitivity or any kind of autoimmune disease should go gluten free, I don't believe that the gluten free lifestyle is for everyone. Also you can't get a diagnosis of celiac disease unless you are eating gluten on a daily basis, so if you think that celiac disease might be an issue for you get tested before you go gluten free. Not sure if you should go gluten free? Schedule a wellness discovery session with me and let's chat about it.
2. Assuming that anything you eat without gluten is healthy. Actually many gluten free versions of foods that normally have gluten in them can be worse for you than those with gluten.
3. Not worrying about cross contamination at restaurants. This is a major problem and you cannot be completely gluten free unless you pay extra attention to this.
4. Not reading the labels on everything before you eat it. Gluten is in a lot of things that you wouldn't suspect.
5. Along with number 4, not taking the time to learn about all the names and forms for gluten. Just because if doesn't say wheat or gluten doesn't mean it is gluten free. Food manufactures use a lot of names for gluten that you may not be aware of.
6. Failing to educate your family and anyone else you live with. Unless everyone in your household is gluten free,
you will need to do this.
7. Failing to plan in advance when traveling or eating out. Advance preparation is a must when you are gluten free.
8. Thinking that just because you have given up gluten all of your health issues will go away and therefore you don't need to worry about other food allergies and or food sensitivities. In fact, about half of those who cannot eat gluten, also cannot eat milk products. Corn, soy, and other grain sensitivities are also common.
9. Failure to eat a balanced diet. This is very important when you are gluten free, in fact, for many people, it is even more important on a gluten free diet.
10. Thinking that once you have been gluten free for a few years then it's okay to cheat once in awhile. In fact, with gluten, if you cheat even once, it will set back your health at least 1 full year. You must be 100% gluten free with no cheating.
Did this help you? If so, I would greatly appreciate a comment and a share on Facebook, twitter, linkedin, or pinterest.
Chat with me
Serious about wanting to work with me to help create better health and wealth in your life? Apply to join my home business team.