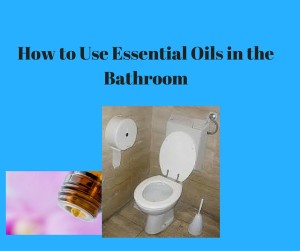 Have you used essential oils in the bathroom? If not you really need to start. This is not a way to use essential oils that many people think of however, for me it was one of the most life changing. I used to have an asthma attack every time I cleaned my bathroom because of the toxic chemicals. These chemicals where causing me to have trouble breathing. In the time since I began cleaning my bathroom (and other areas of my house) with essential oils instead of toxic cleaners, I have a lot fewer problems and my respiratory system is much stronger. That said, cleaning with essential oils in the bathroom is also a natural way to make your bathroom smell good without the toxic chemicals of scented plugins and sprays.
Here are some of my favorite essential oils to use in the bathroom and how I use them:
1. Lemon essential oil. Have you ever noticed that there is a lemon scent in a lot of bathroom and toilet cleaners? There is a big reason why. Lemon and other citrus smells such as orange and lemon provide a nice clean and uplifting scent. Lemon works great for removing ink stains. (yes really, one drop of lemon essential oil on a cloth will wipe and immediately remove those pesky ink pen marks your 3 year old drew on the bathroom wall.) Lemon is also a good all purpose essential oil for helping to clean the bathroom counters, and the toilet.
2. Clove essential oil. This is another great one. I don't use clove every time I clean the bathroom but what is great about clove essential oil for the bathroom is that it can be used to help remove mold. If you have a mold stain that you can actually see on the shower, bathtub etc, you just put 1-2 drops of the clove on a cloth and wipe it right off. If mold is a bigger issue in the bathroom or in other rooms in your house you can use a diffuser to help reduce the amount of mold in your house. See this blog post on how to choose an essential oils diffuser.
3. Melaleuca essential oil. Melaleuca is another great essential oil for cleaning. You can use melaleuca to remove bathroom stains and other problem areas. Melaleuca is great for cleaning the toilet bowl, the bathroom, the shower and more.
4. Diffusing essential oils. With your own diffuser you can diffuse any essential oils you want. Personally my bathroom favorites are spearmint, Douglas fir, lemon, and orange.
How have you used essential oils in the bathroom? Share below in the comments. Grab your free copy of my 101 ways to use essential oils for health, happiness and abundance
Did this help you? If so, I would greatly appreciate a comment and a share on Facebook, twitter, linkedin, or pinterest.
Chat with me
Serious about wanting to work with me to help create better health and wealth in your life? Apply to join my home business team.