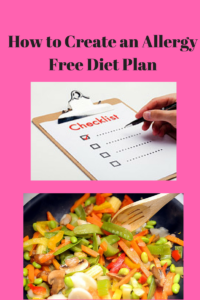 An allergy free diet plan is a crucial part of living allergy free. That said it can be difficult
to create an allergy free diet plan. So how do you create an allergy free diet plan?
1. Make sure you have a clear knowledge of all of your allergies. If you need help with this
you can see a doctor who specializes in allergy testing.
2. Once you know what all of your allergies are make a list of foods that you are able and that you want to eat.
3. Explore options for eating gluten free, dairy free, nut free and whatever other allergens you need to avoid. There are lots of companies who specialize
in making only allergen free food. Learn what these are, where you can buy these foods and keep a written list.
4. Consider purchasing a juicer and learning how to use it. This can help people with all kinds of allergies and can ensure
that you eat more fruits and vegetables with is a major nutrition problem with nearly everyone.
5. If you aren't already drinking filtered water and water that does not have fluoride then you need to do this too. Good drinking water is crucial to living allergy free.
6. Create several allergy free menus and meal options and keep them written down in an easy to locate place.
What else have you done to make sure to eat allergy free?
Did this help you? If so, I would greatly appreciate a comment and a share on Facebook, twitter, linkedin, or pinterest.
Chat with me
Serious about wanting to work with me to help create better health and wealth in your life? Apply to join my home business team.