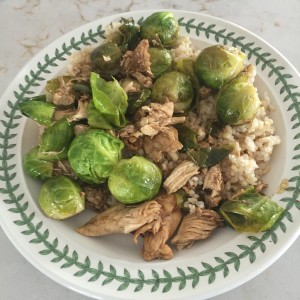 This is one of my favorite gluten free chicken recipes.
Gluten Free Orange Chicken Brussels Sprouts with Brown Rice
Serves 2
Ingredients
2 cups of brown rice
4 cups of water
salt to taste
2 chicken breasts or thighs
2 tablespoons of olive oil
2 tablespoons of orange juice
3 tablespoons of balsamic vinegar
12 Brussels Sprouts
Cooking Instructions
Cook rice in water with salt to taste. You can use a pan on the stove but I like to use a rice cooker. Then while the rice is cooking, you can cook the chicken and Brussels sprouts mixture.
Begin cooking chicken in 2-3 tablespoons of water. If the chicken is frozen you can thaw it first or just start cooking it and it will take a little longer to cook. Cook chicken until it is about 50% cooked. Then add in the Brussels sprouts. Continue cooking until the chicken and Brussels sprouts are about 75% cooked. Then stir in the olive oil and balsamic vinegar. Stir for 2-3 minutes on high heat then turn down to low heat and continue to cook for approximately 10 minutes or until the Brussels sprouts are thoroughly cooked. Then stir in the orange juice for flavoring and let the mixture sit with heat off for 5 more minutes. (You can also use 1-2 drops of a food grade quality orange essential oil) Then serve 1 cup of brown rice on each plate and serve with equal portions of the chicken and Brussels sprouts.
Note: This recipe is also really good with broccoli instead of Brussels sprouts or quinoa or white rice instead of brown rice.
Did this help you? If so, I would greatly appreciate a share on Facebook, twitter, linkedin, or pinterest.
Chat with me