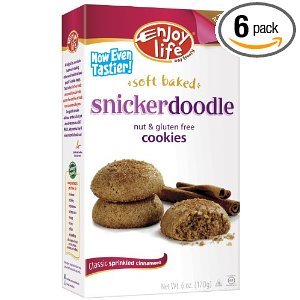 I admit I have an addiction to these cookies. Enjoy life allergen free cookies are so good it's surprising that they don't have any gluten, diary, nuts, egg, fish or soy in them. They are so good. They come in chocolate brownie, chocolate chip, gingerbread spice and snickerdoodle flavors. I'm not sure if I have a favorite, I love all 4 kinds. You can get them at most grocery stores although Amazon also carries them for less money than at most stores. They are relatively small cookies but eating 2-3 will still satisfy you for a good snack. They are not really low fat or low calories though so you want to be careful to not eat too many. 2 cookies has 120 calories and 50 from fat. That said these enjoy life cookies are a great alternative for those of use with food allergies or who want to avoid the chemicals and preservatives that are in nearly every other store bought cookie.
Yum!
Did this help you? If so, I would greatly appreciate a comment and a share on Facebook, twitter, linkedin, or pinterest.
Chat with me
Serious about wanting to work with me to help create better health and wealth in your life? Apply to join my home business team.