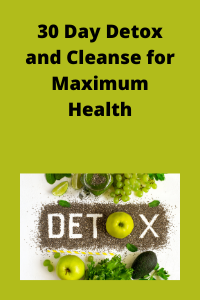 Do you feel tired a lot? Do you feel like you need to cleanse and detox your organs and body?
Does the idea of a cleanse/detox seem too hard and expensive?
When you think of a cleanse/detox to think of juice cleanses that cost hundreds a month and leave you starving?
There is a better way and I would love to show you how. My 30 Day Cleanse and Detox program using essential oils and supplements combined with healthy eating for a gentle and simple cleanse and detox.
This program will leave you feeling energetic, focused, and help you sleep better and more at less than have the costs of most juice cleanses. Plus it's simple to do and you still eat real food.
This program includes:
All the essential oils and products you need to complete the cleanse for at least 30 days and some people while have enough for 90 days.
Weekly recipes and plans to help you succeed
Monthly group call
Individual coaching call to get you started.
Ready to sign up now? Go to
Get Started
and purchase your package of products. Then I will contact you to schedule your first coaching call.
Not sure if you are ready yet? Already a member of Doterra and need help?
Let's talk about it.