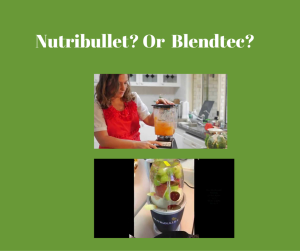 If you have paid any attention at all to the world of smoothies, then you have probably heard of both the blendtec and the nutribullet. However, which one is better? Should you buy a nutribullet or a blendtec? I personally have owned and used both in the past and so in this post, I'm going to talk about the blendtec vs nutribullet and explain reasons why you should purchase each one and reasons why you may want to purchase the other one.
Nutribullet
Less expensive. Depending upon the kind, you can usually get one for less money than a blendtec and many other high quality blenders.
Recipes- there is a wide variety of recipes available and usually you get a big fat recipe of them when you buy one.
Ease of use- A nutribullet is really easy to use and really easy to clean
Quality of chopping- It does a really good job of chopping and blending the fruits and vegetables
Blendtec
Costs more- Usually you will pay at least double and maybe even triple the cost of a NutriBullet.
Is easy to use and easy to clean but still makes a little more of a mess than most nutribullets.
Also comes with a lot of recipes.
Can be used to make a wider variety of foods. A nutribullet is good for mostly smoothies whereas you can make ice cream, soups, juices and lots of other recipes with a blendtec. In fact, a blendtec is more than a blender, it's also a juicer, a food processor and more whereas a nutribullet is really only a blender.
Did this help you? If so, I would greatly appreciate a comment and a share on Facebook, twitter, linkedin, or pinterest.
Chat with me
Serious about wanting to work with me to help create better health and wealth in your life? Apply to join my home business team.