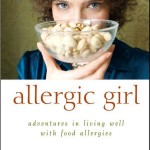 What is it like to live with severe food allergies? In "Allergic Girl" Sloane Miller shares her experiences as someone who is allergic to tree nuts, salmon, egg plant and many types of fruit. As a toddler she was also allergic to milk.
In this book, Sloane offers her story along with some practicial information that anyone who struggles with food allergies can use.
Some of the main topics she covers includes:
1. How to find the right allergy doctor and questions to ask when looking for an allergist.
2. How to talk with your allergy doctor
3. How to overcome the anxiety and trauma that can come with getting a diagnosis of food allergies
4. How to get family support for your food allergies
5. How to deal with food allergy emergencies such as what to do when you accidently eat something you have an allergy for
6. How to eat at restaurants and away from home with food allergies
7. How to plan for travel and emergencies.
In short, Allergic girl offers from great and important information for anyone who has food allergies, whether they are severe or not.
Buy Allergic Girl: Adventures in Living Well with Food Allergies
Did this help you? If so, I would greatly appreciate a share on Facebook, twitter, linkedin, or pinterest.
Chat with me