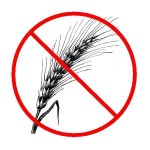 Selecting gluten free foods can be challenging especially since many gluten free foods have other additives and things in them that aren't the healthiest for you. Just because a food is gluten free doesn't make it healthy for people with a gluten sensitivity or celiac disease. So here are seven tips to select gluten free foods that are still healthy.
1. Choose foods that are naturally gluten free. This includes foods such as broccoli, apples, carrots, cabbage, lean grass fed chicken etc. When you have a gluten sensitivity and need to eat gluten free, the majority of your diet should include foods that are whole foods and obviously don't have gluten in them.
2. Focus on eating whole gluten free grains. This includes things such as brown rice, millet, and sorghum.
3. Be careful about gluten free foods that replace the wheat with corn. Too much corn isn't good for anyone and corn is also a common allergen as well. In addition corn is one food that can cause a cross reactivity in people with gluten sensitivity.
4. Avoid too many of the gluten free sauces and dressings as many of them have added soy, canola oil and other ingredients that aren't great for your health in large quantities. Instead use things such as avocados, olive oil, coconut oil, coconut amino acids, lemon-pepper, essential oils and other similar products to cook and flavor your food.
5. Be careful about too much gluten free bread, pasta, cookies etc. These things can still add a lot of carbs and sugars and often aren't the healthiest even without the gluten.
6. Read all the ingredients carefully on all packages of gluten free food and only eat it, if it really is a health food and not just because it is gluten free.
7. Ask for recommendations for others who eat gluten free and see what they like to eat and what they have found helpful.
Need help implementing a gluten free lifestyle? Schedule your one on one gluten free lifestyle implementation session.
If you're curious to know my personal strategies that have already helped thousands of people improve their health and live a gluten free lifestyle easily and at a lower cost, click here to learn more.
Did this help you? If so, I would greatly appreciate a share on Facebook, twitter, linkedin, or pinterest.
Chat with me