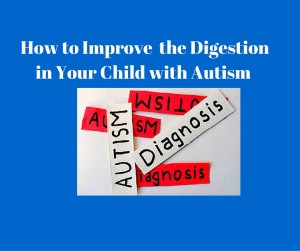 Do you have a child with an autism spectrum disorder? Does your child struggle with digestive issues? If so, know that is is a common problem with children on the autism spectrum. There is a connection with your brain and your digestive system and since children with autism have a brain disorder, they very often if not always have digestive troubles as well.
However, there are things you can do to help and make your life and the life of your child less miserable. Here are 7 of the best ways in my opinion and experience.
1. Identify what foods are causing problems. This can be challenging and there are a variety of ways to do it. If you have the budget and you suspect that your child's problems are severe and that you may need to give up more than just the usually culprits of gluten and or dairy then I recommend you try the ALCAT test. Your child must be at least 5 to try this. My experience with the alcat test
2. Begin eliminating foods. For most children you will need to start with one food at a time and eliminate that food for about 2 weeks before you will notice any difference. I recommend starting with gluten. However, if you suspect you child may have celiac disease, you should do a celiac test first. Autism and celiac are more common than many people realize so you want to do this first. Then I recommend dairy. Then you may need to try soy, corn and or some nuts. You also want to do a complete and detailed food journal with symptoms and take note of what happens when your child does not eat that food for 2 weeks.
3. Continue until all top 8 allergy foods are eliminated. This includes gluten, dairy, corn, nuts, shellfish, and soy. In some cases you may need to also eliminate other grains such as rice.
4. Begin probiotics. Probiotics help to improve the overall bacteria in the gut and can help in more ways than many people realize. I wrote a post with a large list of links on probiotics at: 30 great articles on probiotics
5. Keep a food journal. You will need to continue doing this for at least a year or longer.
6. Keep re-evaluating. You will want to evaluate every few months how things are going and take note of the improvements that you see or that you don't see.
7. Find other ways to calm and soothe digestion. Personally a few drops of peppermint or ginger essential oil or a cup of peppermint, ginger, or digestion herbal tea are my favorites.
While you may be able to do this on your own, it is tough. I highly recommend you work with me for 3-6 months and let me help you through the process. Schedule your free wellness consultation now and let's talk about it.
Need more detailed help? Check out my Healthy Eating for Children with Autism Online Course
SaveSave
Did this help you? If so, I would greatly appreciate a share on Facebook, twitter, linkedin, or pinterest.
Chat with me