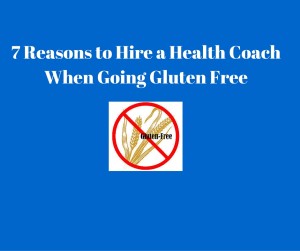 Are you starting your gluten free journey? Or maybe you have been gluten free for awhile but are still struggling? In either case, you may want to consider hiring a health coach to help. When I first started going gluten free, I didn't have anyone to help me and it was much harder than I believe it could have been, if I had had help. See this postHow I finally gave up gluten and you can too.
So what benefits can you gain from gluten free health coaching? While there may be additional benefits, here are the top seven benefits I see from gluten free health coaching.
1. You will be able to successfully implement a 100% gluten free lifestyle much quicker. Going gluten free is a lot more difficult than many people think and it helps to have help in making it happen.
2. Support and encouragement. Going gluten free is not only tough because of everything you have to do and learn, but it is also hard emotionally and mentally for many people. In fact, I believe this is the number one reason that people who get a diagnosis such as celiac disease or another health issue where going gluten free is either required or strongly recommended do not actually do it. They lack the support and encouragement needed to make it happen.
3. Save time. Implementing a gluten free lifestyle can take a lot of time and hiring a health coach to help you can save you time by helping you learn things that you overawes would have to spend your own time doing.
4. Save money. Not all gluten free products and services are created equal. Some are a big waste of money and a coach and help you with this. A gluten free health coach, can also help you save money by educating you about how to grocery shop and cook while on a gluten free lifestyle. Just because you knew how to do this before you starting being gluten free, doesn't mean you know how to do it now.
5. Avoid getting glutened. This is a big problem with many people and it's even a bigger deal when they first start this lifestyle. Having a coach can help you avoid this and reduce the number of times you get glutened.
6. A gluten free health coach can assist you in improving other areas of your health and wellness, such as choosing the right supplements and probiotics and in creating a balanced diet that is gluten free but is also healthy.
7. Need meal plans done for you? Or maybe even gluten free meals cooked for you. Some health coaches can help you with this as well.
Want to explore how I can help you as a gluten free health coach? Schedule a time for us to chat about it now.
Already know that you need help but you don't want to hire a one on one health coach just yet? Check out my 30 Days to Gluten Free Success E-course. It's educational and simple and it's only $17.
SaveSave
Did this help you? If so, I would greatly appreciate a share on Facebook, twitter, linkedin, or pinterest.
Chat with me