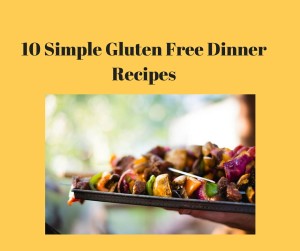 Do you struggle to figure our what to serve for your gluten free dinners? Do you end up eating the same thing over and over? Do your kids complain and often refuse to eat what you have cooked? Do you spend too much money on your gluten free dinner trying to find gluten free fast food or on ingredients that cost more than you would like? Well, it doesn't have to be that way. Let me help you. Here are ten simple gluten free dinner recipes that are classics for me and that I really find to be quite delicious and that even the pickiest of your kids will want to eat.
1. Quinoa with chicken and vegetables- This is a great one because not only is it simple and delicious but there are a lot of varieties. Personally either peas and carrots, or broccoli with red onions are my favorite combinations but you can use any 2-5 vegetables that you want. You make them in a stir fry with the chicken and some olive oil and you can use a rice cooker to cook quinoa fast and ahead of time with leftovers to spare.
2. Brown rice with chicken and vegetables- This is a twist on number 1. You use brown rice instead of quinoa.
3. Chicken fajitas with corn shells- You can also make the fajita mix and not use any shells. You saute chicken, beef or shrimp in olive oil with onions, peppers and zucchini and or yellow squash and then you can add some lemon pepper spice, salt, black better or other gluten free spices.
4. Baked potato bar- This is another great simple gluten free dinner recipe because you can make most of it ahead as well. You wrap potatoes in tinfoil and bake them in the oven for 1.5 to 2 hours. You can also make them in the microwave or cook them in the oven and then save them for future meals. Then you add toppings such as butter, cheese, sour cream, bacon or ham, (not bacon bits as they usually have gluten in them) cooked and raw vegetables, olives, cooked chicken and really anything else you want.
5. Pea and Ham soup- This is another one of my favorites. You can make it in a crackpot. Combine raw peas, chicken broth, carrots sliced and ham and cook for about 4-8 hours. You can also include some onions and celery for more flavor.
6. Chicken, potatoes, carrotts, onions and cabbage in crock pot- For this one it sounds simple and it is. You cook all of these ingredients in a crockpot with some water for 6-10 hours. Then you season it with some salt or other gluten free seasoning.
7. Vegetables egg omlette- You cook the vegetables first. Broccoli, spinach, mushrooms, and onions are my favorite ones but there are lots of combinations that work. Then you add in the eggs and cook them thoroughly. You can also add in some ham and tomatoes and avocados with a little bit of cheese if you can have milk products.
8. Lentils and tomato soup- You make this one in the crock pot and put in raw lentils with some water and or chicken broth with carrots and cook them. Then about 1 hour before they are done or even when they are done, you add in 1-2 cans of tomatoes. You can also cook some chicken with the lentils and it tastes really good.
9. Salad- This is usually the first thing people think of when they think of gluten free dinner. You can make any kind of salad you like. However, my favorite is lettuce with tomatoes, canned tuna, olives, avocado, sprouts, boiled egg, and some red onion.
10. Rice Pile Ups This is similar to the baked potato idea only you use brown rice preferably or you could use white rice and then add the toppings.
Did this help you? If so, I would greatly appreciate a share on Facebook, twitter, linkedin, or pinterest.
Chat with me