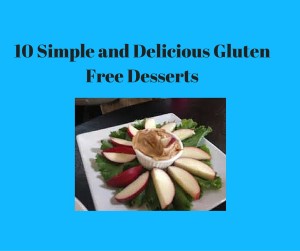 Do you struggle with wasting time making easy gluten free desserts? If so, this post will help you a lot. One of the biggest challenges I had when I started the gluten free lifestyle was making my own easy gluten free desserts so that I wouldn't have to spend a small fortune buying them, and I could cook at home and avoid the processed junk in most gluten free store bought items.
Here are my 10 favorites. Some of these are also dairy free but for the ones that are not, if you cannot have dairy you can easily modify them to make them dairy free.
1. Coconut Milk Ice Cream- This a great both gluten free and dairy free dessert. It's very easy to make. All you do is combine 1-2 frozen bananas, coconut milk- usually about 3-4 oz, and either raw cocoa or vanilla stevia, or natural vanilla extract in a high powered blender like a blendtec and then blend. Then spoon into a bowl and eat.
2. Gluten Free Cookies While you can make your own, for this particular easy gluten free dessert, I like to cheat and buy some. At the blog post linked I talk about my five favorite gluten free cookies, however, my absolute favorite and the healthier ones in my opinion are the ones by Enjoy Life.
3. Coconut Macaroons- My mom found some really great ones at Costco around Easter time but if you want to make your own, they really aren't that hard. All you do is buy some shredded coconut and mix in some sugar according to taste. Then you can roll the into balls and drizzle melted chocolate on top and harden them in the freezer.
4. Chocolate and Avacado Pudding- This one can also be dairy free depending upon how it is made. The basic recipe is to blend raw cocoa, coconut milk and an avocado in a high speed blender and serve.
5. Gluten Free Carrot Cake You can follow the recipe at this link, or you can buy a mix. In the past I've bought the Full Circle Spice Cake Mix that you can find at a lot of grocery stores.
6. Fruit and whipped cream or greek yogurt
For this one you wash and slice fresh fruit. Usually I like a combination of strawberries, blackberries, raspberries and pineapple and put it in a bowl. Then you top it with greek yogurt or whipping cream. There are rice, coconut and soy based whipping creams if you can't have the milk kind.
7. Dark Chocolate- This one is really easy and probably the easiest of the easy gluten free desserts. Buy and enjoy a nice piece of dark chocolate. Make it at least 72% cocoa and double check the label to make sure it is gluten free of course.
8. Black Bean Brownies– These are actually really good. Just make sure if you use a recipe like the one I linked that you use gluten free oats. There are other recipes without oats. Just look around and find one you like.
9. Apple Cider- For this you can heat apple juice and add in a 1-2 drops of cinnamon, basil, and or clove essential oil or you can use the spice.
10. Gluten free zucchini bread This recipe has chocolate chips added. You don't have to use them. You could leave the out. Another way to make it would be to buy a basic gluten free bread mix like Bob's Red Mill and then just add in the zucchini along with the eggs, and other ingredients listed in the package.
Which one is your favorite?
Did this help you? If so, I would greatly appreciate a comment and a share on Facebook, twitter, linkedin, or pinterest.
Chat with me
Serious about wanting to work with me to help create better health and wealth in your life? Apply to join my home business team.