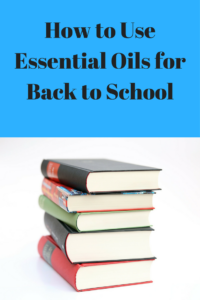 Have you ever considered that essential oils can be used to help your child have a happier, healthier and more positive experience during the first few weeks of his or her time back to school after summer vacation? Here are some of the ways that essential oils and essential oil based products can be used for back to school. Learn how to use essential oils for back to school in simple and fun ways.
1. DoTERRA's On Guard® Protecting Throat Drops. Some of the key ingredients in these throat drops are Wild Orange, Clove, Cinnamon, and Myrrh all of which will help you and your students stay awake and their immune systems boosted during studying hours. Another great time that I like to have a throat drop is right before I teach a d?TERRA class. It soothes and preps my throat so I am ready to teach my information and answer all the questions I get afterwards. What situations have you found it was handy to have a throat drop? To learn more about this product, check out doTERRA's spotlight on their Protecting Throat Drops.
2. Peppermint essential oil- Peppermint is a great oil to have on hand for those seemingly endless days when you get a bit tired and need an energy boost. I like to put one drop in a glass of water and drink it, or rub a few drops on my wrists and inhale. It's also handy to have on hand for if your child eats something at the school cafeteria that doesn't agree with him or her and gets a bit of an upset stomach. Then he or she can rub a drop over the stomach area to get some relief.
3. On Guard Plus Capsules- These are a must have for back to school and really throughout the entire winter season. Going back to school can make your child and you more likely to struggle with a weak immune system and being around lots of people who may or may not have strong immune systems themselves can make it even worse. These capsules have a combination of essential oils that can be used to boost your immune system and keep you and your child feeling healthy and well.
4. Digest Zen Essential Oil- These blend of essential oils including peppermint, ginger, fennel and anise is great to keep on hand for if your child is riding the school bus and gets a bit car sick, or needs some digestive support after eating.
5. Balance essential oil- This grounding blend can be used to help you and your child stay grounded and avoid major meltdowns, keep your sanity, and stay emotionally balanced. If you chose only one way to use essential oils for back to school, you may want to chose this one so that you as a parent won't go crazy.
6. A 2 Z Chewables- These yummy tasting chewable vitamins for kids (adults can take them too) can be used to help make sure your child gets all the vitamins and minerals he or she needs to stay healthy and well. Getting all the vitamins and minerals your child needs from food is difficult and these chewables can help.
7. PB Assist Jr.- This delicious tasting probiotic powder for kids can be mixed in a yogurt, or smoothie or just eaten plain. Use it to help your child have a balance of good digestive enzymes in his or her stomach and to help him or her to maintain a healthy digestive system.
What is your favorite way to use essential oils for back to school? Which one of these do you want to try first? Comment below and let me know.
Did this help you? If so, I would greatly appreciate a comment and a share on Facebook, twitter, linkedin, or pinterest.
Chat with me
Serious about wanting to work with me to help create better health and wealth in your life? Apply to join my home business team.