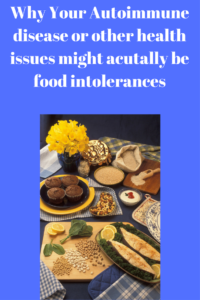 Has it ever occurred to you that if you have an auto-immune disease or have been told by your doctor that you have one, that you might not really have it but that you may instead have food intolerances? What? While that might seem crazy, I've heard a lot of people say that they were told by their doctor that they had an auto-immune disease but then realized later on that they actually had food intolerances instead. The most extreme one that I remember is a lady who posted on Facebook that she had been told she had fibromyalgia and MS but when she stopped eating gluten all of her symptoms disappeared. That said, I am not saying that all autoimmune diseases are food intolerances. However, I do believe that if you have an autoimmune disease then you probably have food intolerances as well and once these are corrected you will likely have fewer symptoms. One example of this is Dr. Amy Myers who healed herself from Graves Disease. On her blog she talks a lot about the connections between gluten intolerance and dairy and autoimmune diseases.
One reason that autoimmune diseases and gluten intolerance as well as dairy intolerance and other food intolerances are related is because they cause damage to your gut and gut damage is one of the main symptoms of an autoimmune disease.
So before you start taking medications for an autoimmune disease, I highly recommend you figure out if you have food intolerances first.
Did this help you? If so, I would greatly appreciate a comment and a share on Facebook, twitter, linkedin, or pinterest.
Chat with me
Serious about wanting to work with me to help create better health and wealth in your life? Apply to join my home business team.