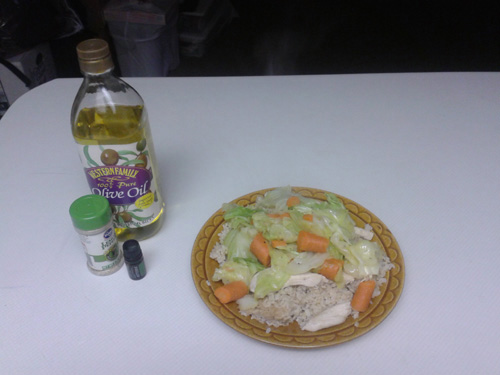 This is a delicious dinner I made for myself a few days ago. Here is the recipe:
1. Cook chicken, cabbage and carrots in a saute pan with olive oil.
2. When food is about half cooked add 2-5 drops of cilantro essential oil. The amount will depend upon how much food you are cooking and upon your own tastes.
3. Wait until the food is almost cooked and then sprinkle lemon pepper on it and stir.
4. Finnish cooking.
5. Prepare brown rice in rice cooker or re-heat brown rice that is already cooked.
6. Serve chicken, cabbage and carrots mixture with brown rice.
Enjoy!
Did this help you? If so, I would greatly appreciate a comment and a share on Facebook, twitter, linkedin, or pinterest.
Chat with me
Serious about wanting to work with me to help create better health and wealth in your life? Apply to join my home business team.