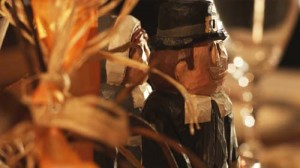 Do you need to eat gluten free and dairy free? I know I sure do and so fortunately there are lots of gluten free and dairy free options for your Thanksgiving dinner.
Here are some recipes that I have either used myself or heard about.
1. Make a quinoa salad with veggies such as carrots and celery instead of bread based stuffing.
2. Use olive or coconut or hemp oil with coconut milk to make your mashed potatoes.
3. Make this raw pumpkin pie.
4. Make this roasted pumpkin salad.
5. Make baked apples with raisins, honey and cinnamon instead of apple pie.
6. Use gluten free flour to make gravy. Personally I don't like gravy anyway so I won't be doing this so I don't know how that would turn out.
7. Make coconut milk based ice cream.
8. Make this pumpkin corn bread.
9. Make "mashed potatoes" with cauliflower and spices and coconut milk instead.
10. Use olive oil or coconut butter to make your yams or sweet potatoes.
Additional ideas?
If you're curious to know my personal strategies that have already helped thousands of people improve their health and live a gluten free lifestyle easily and at a lower cost, click here to learn more.