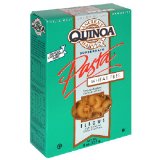 Have you ever wanted to try a gluten free pasta? Do you miss eating pasta because you are gluten free? While there are a variety of gluten free pastas available, many are expensive or don't taste that good. If you've ever looked at the gluten free version of regular pasta, you know what I mean. Well I recently discovered
Ancient Harvest Quinoa Pasta and boy is it delicious. It's not very expensive at least if you buy it on Amazon in bulk, which is where I got it and it tastes just like regular pasta. It is made from Quinoa and corn flour. So if you are allergic to corn then Ancient Harvest Quinoa Organic Pasta Gluten Free, Elbows, 8-Ounce Boxes (Pack of 12)

will not work for you, however, if you can eat corn then this is a great option. I cooked it just like you would regular pasta and I could not tell the difference. The other bonus is that quinoa has a lot of fiber and protein in it and it is really good for you. I highly recommend you try some today.
Ancient Harvest Quinoa Organic Pasta Gluten Free, Elbows, 8-Ounce Boxes (Pack of 12)