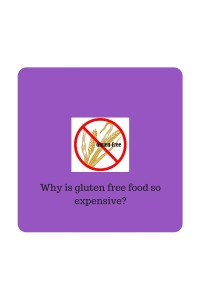 It doesn't take very long of trying to follow a gluten free lifestyle before you realize that eating gluten free can be way more expensive than eating gluten. However, it doesn't have to be this way. Here are my top 7 places to buy gluten free food without breaking the bank.
1. Amazon- Yes really. Amazon has a large selection of gluten free foods from which to chose and what makes shopping for gluten free food on Amazon even better is that you can get everything shipped directly to you so it's very convenient. Amazon is also a great place for less expensive gluten free food if you are able to buy in bulk. Most gluten free items on Amazon come in packages of at least 5 so you need to account for this when shopping there. If you only want to buy 1-2 of something then Amazon may or may not be the least expensive option. Check out my Favorite Products page for ideas of what I love to buy on Amazon.
2. Vitacost– This is another place to buy less expensive gluten free food that you may or may not have ever heard of. Vitacost also sells supplements, and other health products as well as cleaning products and other wellness products at a discount. I highly recommend checking them out. They also offer free shipping with a $50 order or more.
3. Aldi's- Aldi's is a grocery store chain that offers a variety of gluten free food including many options not available anywhere else. You may or may not have an Aldi's near you but it is worth checking out.
4. Thrive Market is a fairly new online store that opened up within the past year. At thrive you can get all kinds of gluten free food but also other healthy products as well at a discount. The big advantage to Thrive is that they also offer an affiliate program so you can earn some extra money for referring friends to shop at Thrive. (Disclosure: the link above is my affiliate link.)
5. Sprouts- Sprouts is a farmers market type grocery store that is mostly in Utah, Arizona, Nevada and California. If you live in one of those states it's a great place to do nearly all of your grocery shopping for less and they have a wide variety of gluten free foods available at decent prices.
6. Your local farmers' market. This can be a catch 22 but is still worth checking out. I've found that new companies that are launching new products in your local area including gluten free food items will market there. Prices can vary and may or may not be a great deal.
7. Consider doing bulk orders. There are many suppliers of certain gluten free foods that offer discounts if you order in a large quantity. Gluten free flour is one for example. Gluten Free Mama is a supplier of gluten free flour mixes that offers this option.
Do you have a favorite place to buy gluten free food for less that I missed? Be sure to share it with me in the comments below.