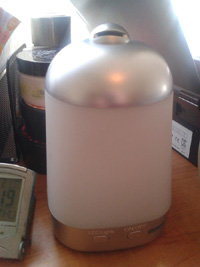 Buying an aromatherapy diffuser can be a challenge and this is a question that a lot of people ask me. In fact, I would have to say that after questions about which essential oil to use for which health condition, "Where do I buy an aromatherapy diffuser?" is my most frequently asked question.
So Where do you buy an aromatherapy diffuser? There are hundreds of places both online and offline where you can buy them. So the real answer to this is not really where do you buy one but where do you buy a diffuser that is high enough quality to last you awhile, to get the aromatherapy benefits that you want and that is not too expensive. The other factor that needs to be considered when purchasing an aromatherapy diffuser is the amount of essential oil that you will use and the frequency in which you will need to add essential oils in order for the diffuser to continue to work properly.
If you consider these factors, then it makes more sense that many people ask me this question. I personally have two aromatherapy diffusers. The one that you see in the picture above is my favorite one. It only costs $25 and you can get it at myoilbusiness.com It is a simple diffuser without a lot of fancy features, however, it does the job and I've had mine for about 8 months now and I love it. You can also get some good quality ones for the price at aromatools.com That is where I got my other diffuser. It is called the Whisper. It does use a little more oil and has some fancier settings that some people prefer.
If you have an aromatherapy diffuser, where did you get yours?