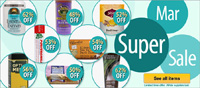 Do you struggle with the high cost of gluten free, dairy free, and other speciality foods? What about supplements? Skin care? Vitamins? Coconut Oil? Olive Oil? Epsom Salts? and other health related products?
Duh. Of course, you feel like you spend too much money on these items. What if there was a place where you could do healthy discount shopping without membership fees, without hassles, and you could get all the items delivered to your doorstep in less than 3 days and many of these items cost less than even Amazon? Well there is. Introducing vitacost.com- the place for healthy discount shopping on pretty much everything you can think of and then some. They even have all of the Enjoy Life allergy free foods for about $1 per box less than Amazon and anywhere else that carries them.
The minimum order for free shipping is only $50. I've been shopping there for years and I love it.
I have a special offer as well that you can only get when you place your first order with this link. Save $10 on your first order of $30 or more.