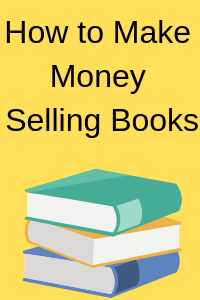 Have you considered that you can make money selling books as a way to make money working from home? If you are like most people you have considered this, but probably didn't realize how much money you can really make by selling books. In fact, it is possible with some work to make more money selling books than you might think. Furthermore, this can be done on your own schedule and you really only have to leave your house to mail the books and for a weekly trip to go find more books to sell.
Here are the main ways you can make money working from home selling books.
1. Write your own books and sell them on Kindle. This may not be what you had considered but it is doable. This is especially true if you have some writing skills and knowledge on a variety of topics. It is also quite a bit easier to do than you might think. I've published several books I've written on kindle and while I haven't made tons of money selling books there, it can be done. Check out this book to learn more. Writing a Book a Week: How to Write Quick Books Under the Self-Publishing Model. Write Free Book Series
2. Amazon affiliate. This is where you sell the books that others have written and are selling on Amazon as an Amazon affiliate. This option works best if you also have a blog you can use to promote your affiliate links for selling books via Amazon.
3. Sell books you already own on Amazon. If you are like most people you have lots of books lying around the house and many of them you probably haven't read in months if not years. Gather together the books you haven't read in awhile and may not ever read again and put them up for sale on Amazon. Some books will sell better than others. You want to focus on selling those that have a good chance of selling for $5 or more and that have fewer than 20 people selling the same book.
4. Find books at thrift shops, yard sales, library book sales and other book sales and resell them on Amazon. This is the best way to make a lot of money selling books. You can also sell books on Ebay and other online sites. You want to research how much books are selling for and how many people are selling that title before you buy the books at thrift stores or a library sale however. This usually will require you to spend some time looking through the books to find those that will sell. Not every book you can get for cheap will sell so you want to take your time looking. In general non-fiction books sell for more than fiction books.
Have you made any money selling books online? Share your experience with me in the comments below.
Did this help you? If so, I would greatly appreciate a comment and a share on Facebook, twitter, linkedin, or pinterest.
Chat with me
Serious about wanting to work with me to help create better health and wealth in your life? Apply to join my home business team.