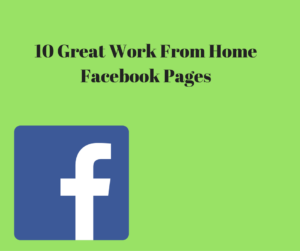 Do you want to work from home and earn some extra money? Or maybe you even want to earn a full time income working from home? Or maybe you have a child with autism or other special needs who demands that you stay home with him or her? In any case, working from home is a hot topic with moms and really with almost anyone. That said you do have to be careful because there are unfortunately a lot of scams out there. I wrote about 50 Work from hoe ideas for moms of children with autism in this post. However, today I would like to share 10 great work from home Facebook pages with you. These pages all have a large and highly engaged audience. Most if not all of them also have a blog and or website with additional articles and information, and all of them do an effective (in my opinion) job of screening their listings for scams.
1. Rat Race Rebellion This great work from home Facebook page focuses on work from home jobs although there are a few home businesses opportunities mentioned as well. Their focus is on larger companies hiring people to do traditional jobs working from home.
2. Work at Home Wife This page focuses more on part time gigs you can do to make a few bucks as well as ways to diversify your income. Both work from home jobs and starting your own business are mentioned with equal portions. They also talk quite a bit about selling on Amazon and Ebay.
3. Work at home mom revolution This page is similar to The Rat Race Rebellion with job leads for work from home companies mostly listed.
4. Work at Home Adventures This work from home Facebook page offers a mixture of tips, advice, job leads, and ideas on how to make money working from home.
5. The work at home woman This page focuses more on making extra cash and working from home with your own business with minimal job leads and job information.
6. Work at Home Moms This page offers more advice, tips and coaching on how to successfully be a work at home mom. While there are some jobs and business ideas, this page more or less assumes you already work from home and are needing help to increase your success and income.
7. The Work From Home Lifestyle
This page offers listings almost exclusively from one website. Although the listings are for a variety of work from home jobs. There are also videos and other educational information.
8. Work from home happiness- legitimate online jobs This page shares a mixture of work from home jobs including customer service and tech support jobs as well as tips for making money online with your own business.
9. Work from home opportunities. This page posts more tips to make money online as well as ways to generate part time and extra income working from home. There are not many actually full time work from home jobs shared.
10. Dream Home Based Work This page focuses on ways to make money online as well as work from home jobs. Most of the jobs are in the tech field or require a variety of online marketing and or research skills.
I hope you find these helpful. As always use your own intuition when applying and know that just because it is listed here doesn't mean it isn't a scam. While I've found these pages to be a reasonably high quality and they do their best to screen offers, they and I can't guarantee that something didn't slip through.
Want to work from home with me? Let's chat.
Did this help you? If so, I would greatly appreciate a comment and a share on Facebook, twitter, linkedin, or pinterest.
Chat with me
Serious about wanting to work with me to help create better health and wealth in your life? Apply to join my home business team.