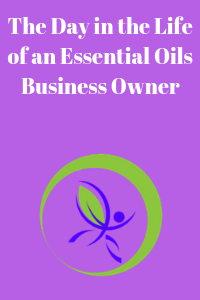 Have you ever wondered what it is really like to be an essential oils business owner? Then keep reading because I am about to tell you.
My daily routine
My daily routine varies from day to day. For me because I still also work a job, my daily essential oils business routine varies according to what else I have going on, and according to the day of the week. For me in general I work most of my business after 4 p.m. and on Saturdays. However, during the Winter season I usually have more time during the day at least 1 day per week as I work in tourism and am the busiest between May-October. Whether you are doing your essential oils business part time or full time will determine what you do. Your actions will also depend upon if you are brand new or if you have been in the business for awhile. If you have children who are still at home during the day that you need to take care of, then this will impact your schedule as well. I personally do not even have children so for me this isn't a consideration.
The first thing I always do in the morning is read my affirmations- statements I've written about my goals and what I want to accomplish in life. I also do some prayer, scripture reading, meditation and motivational reading. Usually I finish all of this within about 15-20 minutes. I may do more of this before going to bed at night as well.
On days that I have to go to work if I am up early enough, then I may quickly scan through my facebook, twitter, linkedin, quora and email accounts and post 1-2 things or respond to anything anyone has sent me or that I see needs an answer. In general I have less than 20 minutes to spend on this before leaving for work.
Throughout the day I keep my eyes and ears open for anyone with whom I can share essential oils. Sometimes I share with several people, sometimes only 1 or 2. When I come home from my job then I spend 1-2 more hours working on this blog, chatting with people on facebook, linkedin, or twitter and doing other online activities to generate leads and put people on my email list. I also usually make phone calls or have phone appointments. I try to go live on facebook at least 1 per week, sometimes twice.
Throughout the week I attend 1-3 local networking events and schedule 1 on 1 meetings with people. I also do usually at least 1 facebook class or live class monthly.
There are various ways to grow your essential oils business and if you decide to do this, then you have to find what works for you and then continue to do it over and over again.
Did this help you? If so, I would greatly appreciate a comment and a share on Facebook, twitter, linkedin, or pinterest.
Chat with me
Serious about wanting to work with me to help create better health and wealth in your life? Apply to join my home business team.