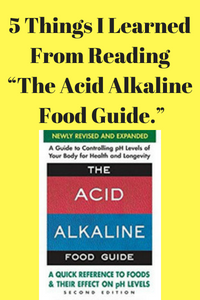 Have you read the book The Acid-Alkaline Food Guide – Second Edition: A Quick Reference to Foods & Their Efffect on pH Levels
yet? If not, you really should. Especially if you are struggling with allergies, or just wanting to eat healthier in general. This book is a great basic guide to living an acid alkaline lifestyle. If you have heard at all about the alkaline movement and the how and why of eating more alkaline foods and less acid foods, then you will want to read this book to gain a better understand about how to make this work for you.
That said, here are 5 of the most important and interesting things I learned by reading this book.
1. I learned about what foods really are alkaline and what foods are acidic. More specifically I learned what foods have only a little bit of acid, which ones have medium acid content and which ones have high acidity. I also learned which foods have a little bit of alkaline, which ones have medium levels and which ones are very high in alkalinity. This book rates virtually every food on the acid or alkaline scale.
2. I learned that a lot of the foods I eat are either moderately alkaline or acidic. This means that while I'm doing pretty good at eating an acid alkaline food diet, I could still improve in many ways.
3. I learned a lot about how to actually implement an alkaline food guide diet including tips on how to grocery shop, store food and other ways to make it work for me without making it impossible to live my life.
4. I learned even more about the importance of this lifestyle. While I've known for years that eating a diet that is balanced with acid and alkaline is important for long term health, reading this book made me even more aware of how important it is.
5. I learned about how eating only alkaline foods or at least 90% alkaline foods for at least a few months can help with weight loss. I never realized how this lifestyle can impact your weight.
Have you read The Acid-Alkaline Food Guide – Second Edition: A Quick Reference to Foods & Their Efffect on pH Levels
? If so, share your thoughts with me in the comments below. If not I encourage you to read it.