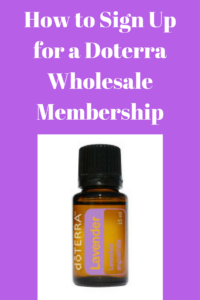 So you've decided you want to sign up for a Doterra wholesale membership and start benefiting from using essential oils and other wellness products at a discount and even having the opportunity to get some of your products for free. I'm so excited for you. Choosing to join Doterra was one of the best decisions of my life.
Many people get confused about their options when it comes to joining Doterra.
A few of the misconceptions I hear include things like:
I only want to order a few times a year so I don't think having a wholesale account will help me since I won't be ordering every month. The reality is that you only have to order at least once a year in order to be a Doterra wholesale member. However, you will get points for free products and enjoy other benefits by ordering monthly but you don't have to.
I don't want to spend $200 or more buying an enrollment kit. Actually, you don't have to do this either. You can pay a $35 enrollment fee and then pick and chose whatever products you want.
I don't want to sell Doterra, I just want to use the products. Perfect, we have wholesale membership options for both people who want to use and those who want to use and sell.
Here are the steps to enroll with a Doterra wholesale membership:
1. Go to my website.
2. Click on join and save. Then chose your wholesale membership option. If you aren't interested in selling and making money, then chose wholesale customer.
3. Complete your personal information.
4. Chose your first order- this is where you decide if you want an enrollment kit or if you want to pay $35 and then pick and chose what products you order. If you aren't sure, contact me and we can talk about your options before you join. Note: the $35 membership only includes training and stickers, no products. If you chose that option, then you must also decide which products to order.
5. Then set up your next autoship order, if you want. If you aren't sure about autoship, you can wait and do it later.
That's it. You are now a wholesale member of Doterra. Watch for an email from me, welcoming you. I'll also be calling you to set up a time for your membership overview.
Did this help you? If so, I would greatly appreciate a comment and a share on Facebook, twitter, linkedin, or pinterest.
Chat with me
Serious about wanting to work with me to help create better health and wealth in your life? Apply to join my home business team.