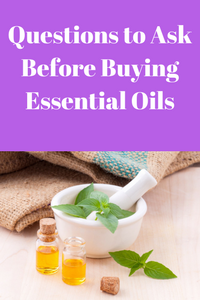 Buying essential oils might seem like a simple thing, you just go to the store, or Amazon or another website and buy essential oils and that's it. However, buying essential oils can be more complicated than that especially if you want to buy essential oils that are of a high quality and that you know will work for your particular needs. So here are some questions to ask before buying essential oils.
1. What is the quality of the essential oil I'm buying?- This is the most important and can be more difficult than it might seem. Just because an essential oil says it's 100% oil doesn't mean it is. Legally they can add carrier oils and blends of different plants and other synthetics and still claim that. This is why it's important to research the company and their processes before buying an essential oil.
2. How is the essential oil tested?- There are standard GMS and Gas tests that every essential oil should go through. However, additional tests with a third party lab as well as other quality tests are always a good idea and can improve the quality of the essential oil.
3. What do I need this essential oil for?- This is a good question to ask since your reasons for purchasing an essential oil can determine whether or not you can go with a cheaper brand as well as whether or not you will get out of an essential oil what you were hoping to get.
4. What kind of support can I get after my purchase?- Most essential oil companies offer limited to no support after purchasing. This is one advantage to working with a consultant from a company like Doterra or an aromatherapist. I offer comprehensive health coaching in addition to essential oils education for everyone who joins Doterra with me.
5. Will I need to dilute this essential oil?- The answer for most essential oils is yes. However, many of Doterra's oils do not need to be diluted unless they are a hot oil. If you have to dilute all of the essential oils from any given brand, then this can be a sign that they may not be as high of quality. Also it can make them more difficult to use.
6. Can I use this essential oil internally? While some essential oils cannot be used internally no matter what, there are brands that offer some essential oils that are safe to use internally. Other brands don't recommend internal use for any of their essential oils. Make sure you know this and are okay with this before buying essential oils.
What other questions do you have? Comment below or contact me and I'll be happy to help you.
Did this help you? If so, I would greatly appreciate a comment and a share on Facebook, twitter, linkedin, or pinterest.
Chat with me
Serious about wanting to work with me to help create better health and wealth in your life? Apply to join my home business team.