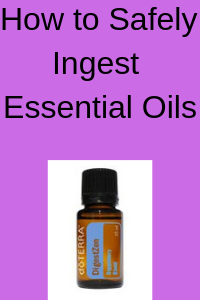 Are you wondering about how to safely ingest essential oils? Many people are. In fact, I've written already another post about how and why I ingest essential oils.
However, if you are going to ingest essential oils you must learn how to do it safely. Here are some tips on how to ingest essential oils safely.
Know whether or not you can ingest the brand you are thinking about ingesting.
Check the label to see if that oil can be ingested.
Be careful. Only ingest 2-3 drops max at a time.
Ask yourself- Why are you ingesting that oil rather than diffusing or applying to the skin?
What do you hope to gain from ingesting that oil?
Consider ready made capsules rather than putting the oil in water or otherwise ingesting.
Use a capsule with 2-3 drops of essential oil and a few drops of a carrier oil.
Pay attention to any negative symptoms you experience.
Consider using essential oils in cooking as your primary method of ingestion.
Did this help you? If so, I would greatly appreciate a comment and a share on Facebook, twitter, linkedin, or pinterest.
Chat with me
Serious about wanting to work with me to help create better health and wealth in your life? Apply to join my home business team.