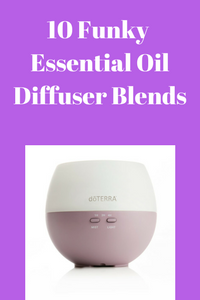 Have you tried any funky essential oil diffuser blends? I know I sure have experimented quite a bit with various essential oil diffuser blends and some were great and others not so much. Did you realize however that you can use essential oils to recreate many popular smells of candles, perfumes and other common scents? You can even create things like Apple Pie, Rootbeer, and Gumballs. Yes really. Here are some recipes you can use to create some rather funky as well as enjoyable essential oil diffuser blends.
1. Rootbeer diffuser blend can be made with citrus bliss blend and wintergreen. Citrus Bliss is a blend that contains citrus oils and vanilla.
2. Gumballs diffuser blend with grapefruit, ylang-ylang, and eucalyptus. This makes for a powerful smell that really does smell like gumballs. You can also try ylang-ylang and eucalyptus without the grapefruit for a less sweet and mintier smell.
3. Orange Cream Soda diffuser blend with wild orange and purify. Purify is a blend from Doterra that contains lemon, lime, and melaleuca or tea tree and combined with wild orange it smells like a citrusy yet sweet smell.
4. Peppermint Candy diffuser blend with peppermint and spearmint. Now you can obviously just diffuse peppermint and it will smell like peppermint candy, however, I like to combine peppermint and spearmint for an even stronger candy smell.
5. Pumpkin Pie diffuser blend with ginger, wild orange, cinnamon, clove. This delicious smelling diffuser blend smells just like a pumpkin pie. I personally put just 1 drop of each oil but you could do 2 of one or more if you want a stronger smell.
6. Apple Pie diffuser blend with cinnamon, clove and ginger. Just like the pumpkin pie only it smells like apple pie.
7. Floral Boquet blend with lavender, rose and jasmine. This smells of course like a wide variety of flowers.
Which one is your favorite? Try them and let me know.
Did this help you? If so, I would greatly appreciate a comment and a share on Facebook, twitter, linkedin, or pinterest.
Chat with me
Serious about wanting to work with me to help create better health and wealth in your life? Apply to join my home business team.