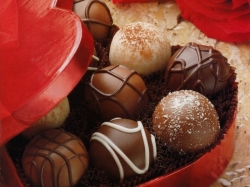 What do you think when you see the picture above of the chocolates? Do you have immediate urge to eat them all right now? Do you struggle with managing and controlling cravings? If so, you need to work on fixing this. One key to managing allergies, asthma and other illnesses without drugs is the way you eat and if you can't control your cravings and you give in and eat whatever you want and whenever you want it, then you are going to struggle. I know it can be hard, when I first got my ALCAT food sensitivities and allergies test results, I had to go off of 60 foods for 4 months and then I had 20 more I could only eat every 4 days. Even now I have to be very careful and I have to rotate all foods and never eat them more than once every 4 days and if I have a reaction to something then I have to wait 6 weeks. While this does take some getting used to, the long term results and having optimum health is worth it.
So what can you do to manage and control your cravings and stick to a healthy food lifestyle?
1. Find an accountability partner. Make sure this person has similar goals and will support you in the way that you need.
2. Get acupuncture treatments. Yes really. Acupuncture has been proven to help with cravings.
3. Use pictures and images both on a poster board and in your mind to imagine how much healthier you will be if you avoid the foods that you know you should not eat.
4. Realize that it can take time. The first week of not eating something can be the hardest.
5. Avoid buying those foods. If they aren't in your house, you won't eat them. Yes it really is that simple.
6. Avoid being around people who are eating those foods as much as possible.
7. Realize that managing and controlling food cravings requires many of the same steps as quitting smoking or other addictions.
Want to explore your options for improving your health with a free health history evaluation? Click here to learn more.