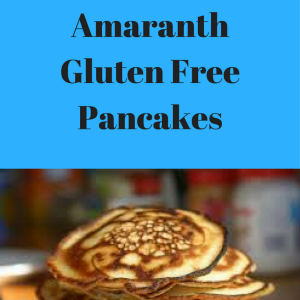 I was craving something different for breakfast so I decided to experiment with making some gluten free pancakes using both buckwheat and amaranth flours. I've made buckwheat gluten free pancakes before but never tried making them with amaranth flour. I happened to have some amaranth flour I bought on sale a few months ago from Vitacost and wanted to put it to good use. The result is the following recipe. Note: I was so hungry I ate all the pancakes without taking a picture, so the picture isn't my pancakes but they did look a lot like those in the picture.
2017-08-19 11:50:27
Serves 2
Gluten free pancakes made with buckwheat flour and amaranth flour.
Ingredients
1 Cup Buckwheat Flour
1 Cup Amaranth Flour
1/2 Teaspoons of Sea Salt
2 Teaspoons of Baking Powder
4 Tablespoons of Honey
2 Eggs
2 Cups of Non-Dairy Milk (I used Almond Milk)
2 Tablespoons of Vegetable Oil ( I used olive oil but coconut oil or others would work good.)
Optional: cinnamon- I mixed in a few tablespoons
Instructions
Mix together everything.
Spoon out or ladle out onto a medium hot griddle, sprayed with cooking spray and cook until bubbles are well-formed around the edges of pancakes, turn and cook other side. Serve with warn maple syrup, or raw honey, fresh fruit or applesauce.
Spectrum of
Wellness
http://annalaurabrown.com/