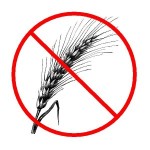 Many people associate a gluten free diet with a wheat free diet, yet these two diets are actually quite different. Yes it's true that in order to follow a gluten free diet, you have to also follow a wheat free diet, since wheat has gluten in it, however, there are lots of other things that have gluten in them besides just wheat.
So what else has gluten in it? The list is never ending since gluten can be in a lot of things, but some of the common things that many people don't consider include:
canned soups
makeup
some skin care
barley
couscous
granola
candy bars
vitamins
There are also gluten free versions of most of these things. Couscous and barley are not and cannot be gluten free but the rest exist as gluten free versions.
That said, should you follow a gluten free diet? or a wheat free diet? This can be a tough question since many people are allergic to wheat but not necessarily to gluten. Personally I'm allergic to wheat and not necessarily to gluten however, I do my best to avoid gluten when possible since I think from my own experiences and from the experiences of others that it's not really healthy for you. However, as long as you are not celiac or allergic to gluten you can start by eating a wheat free diet. For many people this is easier and then you can over time adapt to gluten free too.
What questions do you have about eating gluten free, or wheat free?
A Guide to the Gluten Free Lifestyle
If you're curious to know my personal strategies that have already helped thousands of people improve their health and live a gluten free lifestyle easily and at a lower cost, click here to learn more.