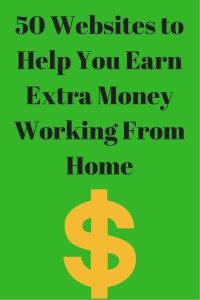 Do you want to earn extra money working from home? Who doesn't? The reality is though that actually making money working from home is harder than it might seem and there is an overload of information out there. Here is a list of the top 50 websites I've found to be helpful for actually making money working from home.
1. Swagbucks– This is the best and only website I've found that actually pays you for taking surveys and other similar online actions. You probably won't earn a living but you can make some good extra money for new clothes, food or a trip.
2. Rat Race Rebellion This website focuses on work from home jobs and ways to make extra cash.
3. The Penny Hoarder One of the best blogs I've seen about various ways to earn more money and save money. They also have a facebook group that is really good.
4. Doterra– This is my number one way I make extra money working from home and I love it and essential oils have been life-changing for me.
5. Direct Selling News– a great newspaper style site to help you keep up to date with everything direct selling.
6. Theworkathomewife.com Another great site for finding work from home jobs.
7. Theworkathomewoman.com Another work from home site that focuses mostly on work from home jobs.
8. Home Business Magazine The online version of a home business magazine, it's a mix of articles wtih ads on various home business opportunities.
9. Work From Home Magazine– Another work from home magazine.
10. Top 12 work from home jobs– an article from Woman's Day magazine about the top 12 work at home jobs.
11. Home Business Expo– A website with listings for various home businesses. You can search for an opportunity based on various criteria.
12. Upwork– One of the top sites online for finding freelance and short term projects.
13. Fiverr– another freelance site you can sell your services for $5 and also offer upgrades for additional income.
14.Remote– A website for finding companies who will hire you to work remotely.
Freelancer– Another website to locate freelance opportunities.
15.Flex Jobs– A website for finding flexible and mostly work at home jobs. You do have to pay a membership fee for this one but the quality of listings is higher.
Virtual Assisting websites where you can work from home as a virtual assistant for 1 or more companies.
16. Worldwide 101
18. People Per Hour
19. Fancy Hands
These sites are job sites that offer a lot of traditional jobs that are not work from home, however, they also do have listings for work at home jobs.
20. Indeed
21. Snag a Job
22. Simply Hired
23. Dream Home Based Work– Another home based work site.
24. Door Dash– Not exactly working from home, an Uber like job but you deliever food instead of people.
25. Vipkid– Work from home teaching English to children in China.
26. Working Solutions– Another work from home job sites website.
27.Ebay.com– Work from home selling things on ebay.
28. Skillshare– Sell your knowledge by creating online courses and selling them.
29. Udemy– another website for creating and selling online courses.
30. Teachable– Another online course website for selling your knoweldge with online courses.
31. Foap– take pictures and sell them.
32. Offer Up– Sell your used clothing and other items for money.
33. Craigslist– online classifieds- not just for making extra money working from home but you can find some of those there. You need to be careful though because they are a lot of scams and junky things there too.
34. Wyzant Find tutoring jobs including online tutoring opportunities.
35. University Tutor– Another website for finding jobs tutoring.
36. Amazon Turk Work for Amazon doing small online tasks. You probably won't make lots of money but extra cash is doable.
37. Shopify– The number one website for creating an ecommerce store.
38. WordPress– Start your own blog and make money working from home.
39. Trunited– Earn money by shopping online and earning cash back rebates.
40.Offline Gold Training– An inexpensive yet paid ebook on how to make money offline helping people online. I own this and it's great.
41. JackieUlmer.com My friend and former upline Jackie's blog on social media. She offers a lot of great tips for network marketing and other people working from home.
42. Entrepreneur on Fire– The best podcast for learning about running a business and working from home.
43. Side Hustle School– Podcast, Website and Book on how to start a side hustle and make extra money working from home without it interferring with your full time job.
44. Pro Blogger– A blog about how to blog and make money doing it.
45. Network Marketing Pro Eric Worre shares lots of tips and trainings on how to succeed with network marketing as a home-based business.
46. God Centered Success– Mia Davies' podcast about God centered success for entrepreneurs and people who work from home.
47. Success Magazine– A great magazine full of tips on success and many of these can help with working from home.
48. Network Marketing Times– The number one magazine for network marketers and direct sellers.
49. Todd Falcone– Another great training site for network marketers.
50. MLM.com– A great site with news, articles and a forum for network marketers.
Did I miss a really great work from home website? Tell me about it in the comments.
Did this help you? If so, I would greatly appreciate a comment and a share on Facebook, twitter, linkedin, or pinterest.
Chat with me
Serious about wanting to work with me to help create better health and wealth in your life? Apply to join my home business team.