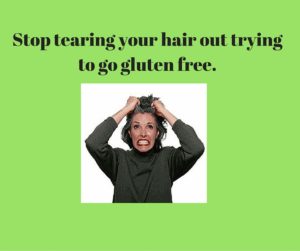 This comprehensive online class will cover everything you need to know to successfully go gluten free within the next 30 days.
We will talk about:

Gluten Free Shopping

Sauces and Dressings Without Gluten

Bread Without Gluten

Pastas Without Gluten

Gluten Free Grains

Gluten Free Cereals

Digestive Enzymes

How to Not Go Broke Eating Gluten Free

Hidden Sources of Gluten

Salads

Chicken and Turkey

Restaurants

Pies and Cakes

Other reactors, corn, dairy, soy, canola oil

Rice Dishes

Vitamins, Supplements and Drugs

Overcoming Cravings

Makeup and Skin Care
You will also get over 30 pages in downloads with checklists and guides to help make sure that you succeed at going gluten free within 30 days and that you do it in the easiest, least expensive and most hassle free way possible.
Grab your copy of the class now while it is only $25.