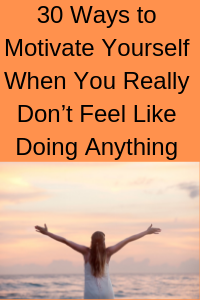 Do you struggle to motivate yourself to take action? Everyone does from time to time. Here are some ideas to help you motivate yourself.
Think about why you started.
Listen to some uplifting music or better yet dance to that music
Use an essential oil blend such as motivate or something else to help uplift your mood and motivate you.
Blow bubbles.
Do some drawing or coloring with a kids coloring book or even an adult coloring book.
Make a list of all the reasons why your life will change and what will happen if you take action.
Do the opposite of number 6. Make a list of all the reasons your life won't change if you don't take action.
Watch a short funny movie or other video to entertain yourself and change your mood. I like to watch an episode of Mister Ed for example.
Give yourself a reward for completing any task you don't want to do and then just do it.
Re-evaluate why it is you are doing what you are doing and ask yourself if it really is necessary for you to do it. If not, then maybe you just don't do that thing.
If it's a big task then split it up into smaller ones and do one part at a time.
Take a few minutes to meditate and visualize what will happen when you have already done what you need to do.
Take another look at your affirmations or write out some affirmations related to the action or actions you need to do.
Just do it. Yes really, sometimes you just need to take action even if you don't feel like it.
Take a break. A short break of 15-20 minutes can sometimes really help.
Take a quick cat nap. Sometimes a nap of 15-20 minutes can also help.
Eat some chocolate. Yes really sometimes that can really help.
Get an accountability partner if you don't already have one and talk with them about your feeling in a funk.
Ask yourself why you don't feel like doing anything? Are you tired? Sick? Or just not motivated?
Go for a walk. Being out in nature will usually help you come back and feel motivated.
Do some other kind of exercise for 20-30 minutes.
Give yourself some pampering such as a facial, foot bath soak, or mini massage.
Spend a few minutes working on a hobby you enjoy. This could be cooking, sewing, playing a musical instrument for example.
Find a dog to play with for a few minutes.
Read some motivational quotes.
Just don't do that thing for today. However, promise yourself that you will do it tomorrow.
Read some jokes to get yourself in a funny mood.
Take a 10 minute social media break.
Find a baby or small child to play with for a few minutes.
Listen to a short motivational audio book or other audio.
Did this help you? If so, I would greatly appreciate a comment and a share on Facebook, twitter, linkedin, or pinterest.
Chat with me
Serious about wanting to work with me to help create better health and wealth in your life? Apply to join my home business team.